REPRESENT A NEW NARRATIVE. SUPPORT OUR SOCIAL IMPACT.
SERVICES FOR ALLIES BEYOND TRANSGENDER 101
Testimonials
We hosted Ashton, Founder of Gender YOUphoria, for a workshop on navigating the healthcare system while trans.  Being a company that focuses on inclusive healthcare, it is extremely important for our employees to understand the specific experiences on trans people in the healthcare system.  Ashton did an incredible job of leading the workshop with humor, engagement, and mindfulness.  Ashton also did a fantastic job of opening the session to questions and was extremely open and thoughtful when answering them.  **Many employees said that the workshop was a highlight of their time at our company,** and I can't recommend Ashton enough!

Arielle Solomon, Team Lead - Sales Development, Maven Clinic. Named by "Fast Company" as World's 10 Most Innovative Health Companies of 2020.
"Ashton of Gender YOUphoria, and his advocacy for transgender people and their collective rights, was inspiring to see. It reaffirmed my commitment to being an advocate alongside him. He was incredibly vulnerable in sharing his own struggles with his transition and it was apparent many people in the room were surprised to hear a lot of the struggles he has faced, struggles that cisgender people often take for granted in not having to experience. He was open and transparent in his communication and was willing to answer any questions people had that they may have otherwise been unwilling to ask previously. I commend Ashton for his willingness to talk openly about this topic and I can only hope the attendees walked away with a better, more holistic perspective on transgender people and the rights they are owed."

Sabrina Kelley, SHRM-CP Human Resources Manager, JobsOhio.com
As we were launching Pride Fund 1 (The first venture fund focused on supporting the LGBTQ+ Community) We knew that teaching our entire team about gender communication was a priority and recognized that we needed help to become better gender allies, advocates, and true accomplices. For this, we knew to call Ashton Colby. We had high standards and Ashton exceeded all of them. We are better partners, investors, and people because of our work with him.

T. Wolf Starr, CEO of Atlas Partners and Managing Partner of the Pride Fund 1
TRAINING & CONSULTING CLIENTS
YOU ARE READY FOR A NEW TRANSGENDER NARRATIVE.
• YOU are a transgender person or ally who knows being transgender is an experience about so much more than the physical body.
• YOU know the power of words you speak about yourself, and the narratives you internalize, impact how YOU experience the world.
• YOU are not interested in living with the disempowering transgender possibility models, like a diagnosis of gender dysphoria.
• YOU are interested in answering, "What would it look like to reach a state of Gender YOUphoria and THRIVE in all areas of life: physically, emotionally, mentally and spiritually?"
• YOU see transgender experience as a DIVINE CATALYST to embodying the universal truth: Who we truly are is so much more than our bodies.
SERVICES FOR THE TRANSGENDER COMMUNITY
TRANSITION TO THRIVE PEER MENTORING
You're a transgender person who knows the value of having a thriving mental, emotional, spiritual, financial and interpersonal life while working towards a mission-driven contribution to the world. 
You're entrepreneurial minded. You know that unpacking limiting beliefs and replacing them with empowering narratives helps you co-create with the Universe a life beyond your wildest dreams.
This is for transgender people looking to go to the next level in their life experience while learning the emotional resilience and spiritual tools it takes to reach their fullest expression.
LEARN MORE & BOOK A CALL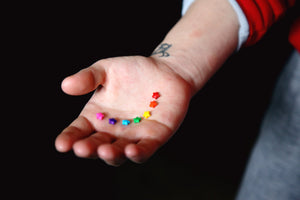 MINDFULNESS-BASED EMOTIONAL RESILIENCE SKILLS
You're an organization or individual who wants to bring trauma-informed, mindfulness-based emotional resilience tools, similar to yoga and meditation, to yourself and your community. We offer virtual classes on an individual sliding scale basis or have customizable class packages for organizations. 
These classes are taught by our founder, Ashton Colby, a transgender man and certified yoga teacher (200 hour training RTY200) with over 100 additional hours of training in trauma-informed yoga and mindfulness-based emotional resilience skills. 
BOOK A CALL